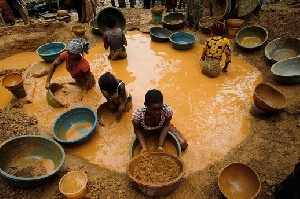 The Member of Parliament (MP) for Upper Denkyira East, Nana Amoakoh, has said that Government has put in place a formidable taskforce to deal with the menace of illegal mining popularly known as 'galamsey' in the country.
In an interview with some journalists of the Parliamentary Press Corps in Accra, Wednesday, March 29, 2017, the MP echoed that 'galamsey' is threatening the lives of Ghanaians, adding that most of the country's water bodies are now polluted by the activities of illegal miners.

Hon. Amoakoh reiterated that if 'galamsey' is not controlled, the country will be in dire need of water in some few years to come, which will affect the survival of Ghanaians.

This, together with some other reasons, he noted, has necessitated the need for the government to map up strategies, including the setting up of a joint taskforce made up of soldiers, police officers and other security officials to deal with the menace.
The MP therefore appealed to those who are involved in 'galamsey' to bear with the government and bring their activities to a halt.

Hon. Amoakoh added that government will put in place some measures to plant more trees around the various water bodies affected by 'galamsey'.

The tree planting exercise, he added, will create job opportunities for people who will lose their jobs when the taskforce starts their work.