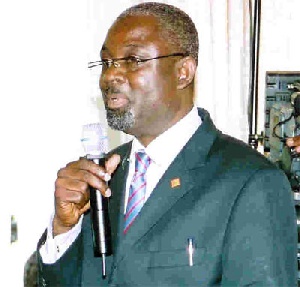 Wed, 28 Mar 2007 Source: GNA
.. Invested billion dollars in energy sector
Accra, March 28, GNA - Measures announced by President John Agyekum Kufuor in his State of the Nation Address to solve the country's energy crisis are on course and expected to be ready on schedule, his Press Secretary, has assured.

These include the building of a 300 megawatt plant in Tema and another emergency plant to supply 126 megawatts of power both by the Volta River Authority (VRA) and the production of up to 110 megawatts by three American Companies.


Ghana's present total electricity requirement stands at 1,300 megawatts but the total generation mix comes up to 800 leaving a shortfall of 500 megawatts.


Mr Andrew Awuni told a Castle press briefing on Thursday that those arrangements should altogether provide at least enough to take care of the deficit.


The Government has already released funds for the emergency plant and work was steadily progressing on it.


He said apart from these, 19 Independent Power Producers have applied to produce and supply electricity to Ghanaians while a consortium of mining companies have offered to build a plant at Tema by June to supply 80 megawatts of power.

Mr Awuni rejected claims by some social commentators that seem to suggest that the Government has been remiss in its responsibilities to increase the nation's energy capacity.


He said on the contrary, it has taken steps to give both short and long term solutions to the problem and mentioned it's payment of 40 million dollar equity in the West Africa Gas Pipeline Project as far back as in the year 2003 and the raising of the capacity of the Aboadze Thermal Plant from 200 to 500 megawatts.


Besides, he said, the Government, together with the VRA has within the last few years invested nearly one billion dollars in the production side of the energy sector.


The figure did not take into account investment made in the distribution sector and the 600 million dollar Chinese loan to build the Bui Dam.


"This is the level of Government's commitment to dealing with the energy situation. To suggest that the Government is not paying serious attention to the sector can therefore not be true at all."

Mr Awuni who also touched on the West Africa Power Pool, which was supposed to help bring some relief to the country and said it has not yet come on stream due to a technical hitch and that the experts were working to fix it.


The facility for the power transfer was commissioned at Sakite in Benin on February 23, but just after seven minutes, the systems separated as a result of frequency differentials.


Meanwhile, President Kufuor has granted audience to a Special Envoy of the King of Morocco, Mr Taieb Fassi Fihri, at the Castle, Osu. He was there to deliver a message, the content of which, was not disclosed.

Source: GNA