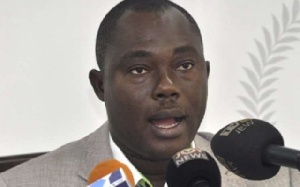 A fellow at the Institute of Economic Affairs (IEA) and lecturer at the University of Ghana, Prof Ransford Gyampo, has denied reports he said the New Patriotic Party can only come close to winning power after changing its flag bearer, Nana Akufo-Addo.
He is also reported to have said the governing National Democratic Congress (NDC) and President John Mahama will win the 7 December polls, although he wishes they do not.

On a purported secret audio recording, a voice alleged to be that of Dr Gyampo's is heard saying: "I am not trying to undermine anybody, but whether you like it or not, me I don't like the NDC to win; but you will win that one, I know honestly. I know because you know how to win elections, OK. So me, I know, so when I say it, you don't have to antagonise me. The NPP is crumbled, that, not everyone knows, NPP will come, maybe after Nana Addo, but not Nana Addo."

Reacting to the reports on Ghana Yensom on Accra100.5FM on Monday 28 November, Dr Gyampo told show host Chief Jerry Forson to disregard the recording because he had nothing to do with what was said in the recording.
According to him, he had not had any such conversation with anybody.

"I haven't said anything like that. First of all I'm not a pollster and so I can't predict elections, and secondly I have not carried out any scientific study in order to predict or publish which party will win or lose," he denied.