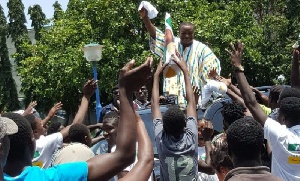 Flag bearer of the All People's Congress (APC), Hassan Ayariga, has revealed that he has so far spent about $4.5 million dollars on vehicles for his presidential bid.
Mr Ayariga said he has bought about 30 Pick-up trucks and a number of SUVs including Land Cruisers to help him execute his campaign for this year's polls.

He, therefore, said his disqualification from the race by the Electoral Commission, after having spent that amount of money and more got him "upset," thus his hurling of abuses at EC Chair Mrs Charlotte Osei describing her as "stupid" and "foolish" when he spoke to Class91.3FM's Emefa Apawu moments after his disqualification was announced.

"I'm not a happy man when it comes to things that I do right and somebody will disqualify us," Mr Ayariga said on Wednesday. He has, however, apologised to Mrs Osei and all Ghanaians. He told Accra-based Starr FM that he was a "gentleman" who had a lot of respect for women and mothers.
Mr Ayariga and eleven other aspirants were disqualified from the race over various anomalies. The other disqualified nominees include Dr Edward Mahama of the People's National Convention (PNC); Dr Agyenim Boateng of the United Front Party (UFP); Kofi Akpaloo of the Independent People's Party (IPP); Kwabena Adjei of the Reformed Patriotic Democrats (RPD); and Dr Papa Kwesi Nduom of the Progressive People's Party (PPP).

The others include: Dr Henry Herbert Lartey of the Great Consolidated Popular Party (GCPP); Mr Richard Nixon Tetteh (United Development Systems Party); Thomas Ward-Brew of the Democratic People's Party (DPP); Alfred Kwame Asiedu Walker, an independent candidate, and Akua Donkor of the Ghana Freedom Party (GFP). Mr Akwasi Addae Odike of the United Progressive Party's nomination is on hold pending a court case.