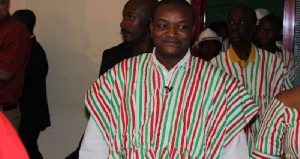 Disqualified Presidential candidate of the All People's Congress (APC) Mr.Hassan Ayariga has once again taken a swipe at the chairperson of the Electoral Commission,Madam Charlotte Osei.
Speaking this morning on Accra based Starr Fm,an obviously livid Hassan Ayariga accused the EC chair of being disrespectful and going against the laws of the land.

Narrating his ordeal Ayariga said "the EC made us sit until 7pm when we went there to make corrections.We made the necessary corrections to the errors they brought to our notice".

The failed Presidential aspirant believes that the election management body has been unfair to his party and the EC chairperson's attitude could bring chaos to the country.

"The Electoral Commission will make the country a chaotic one if care is not taken. She goes against the rules.

The EC does not comply to the rules of the land and that is not a good sign.In this country we have the right to protest.I have a lot a supporters in this country
If the EC does not respect the rule of law I will help her to do so""he cried out.

A determined Hassan Ayariga who many people have mostly described as a 'political joker' has vowed to go every length to achieve his life long dream of being Ghana's President someday.

"I will not die until I become a president of this country"a bullish Ayariga emphasized.

Mr Ayariga who has glaringly portrayed there is no love lost between himself and Madam Charlotte Osei did not hesitate to show it once again.

"Your actions determine how people will describe you. My life and that of my family is important to me but that of Mrs. Charlotte Osei is not important to me
The EC boss on an international platform mentioned that I will lose the elections" Ayariga added.

The Political satirist did not hesitate to accuse the chairperson of the Electoral Commission of being a despot who unilaterally takes decisions at the Commission without consulting other members.

"The Commissioners do not have any say under Mrs. Charlotte Osei and that is not the best"he alleged.