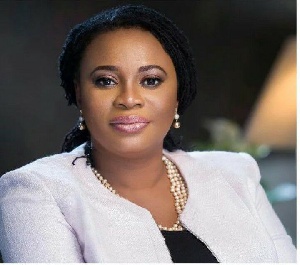 Details are emerging about how the committee set up by the Chief Justice to investigate complaints against top officials of the Electoral Commission (EC) came to the conclusion that the commission's chairperson, Charlotte Osei should be booted out of office.
The five-member committee, chaired by Justice Anthony Alfred Benin of the Supreme Court, recounted how the sacked EC boss, Charlotte Osei, failed to apply the 'standards and procedures' set by the Public Procurement Act in the award of contracts running into millions of dollars.

Mrs Osei was said to have dished out contracts to individuals and corporate bodies without due process which showed a possible case of corruption.

The sacked EC boss, according to the committee, acted more or less like a procurement officer and unilaterally awarded huge contracts with virtually no input from other commissioners.

The committee, whose membership also included Justices, Samuel K. Marful-Sau and Agnes Dodzie, both of the Court of Appeal, as well as Welbeck Abra-Appiah, a renowned banker and Rose Karikari-Anang, former Executive Secretary, Ghana Employers Association, investigated only allegations for which preliminary prima facie case was established by Chief Justice Sophia A.B. Akuffo that mostly bordered on serious procurement breaches.

In all, there were six prima facie cases against the sacked EC boss, and in each case, she was found to have breached the procurement rules, according to the Committee's 54-page report.
"We wish to state that the evidence before this committee clearly shows that the EC, as an entity, did not observe the provisions of the Public Procurement Act, Act 663 as amended by Act 914," the committee said on Page 8 of the report, adding "For example, all the allegations against the chairperson on procurement that this committee investigated, no evidence was adduced to show that the EC established and used an Entity Tender Committee with membership as composed by Act 663 and Act 914 described above."

"As the evidence will unfold, whenever the ad hoc Tender Evaluation Panel submitted its report to the Tender Review Panel, Mrs. Charlotte Osei, who is the Chairperson of the panel, approved the recommendations alone with an 'ok minute' on the report without the involvement of the two deputy chairpersons," the committee said.

"The evidence showed that most procurement activities were done on the recommendations of the Tender Evaluation Panel and not the Entity Tender Committee and the Central Tender Board, which had the mandate to approve most of the contracts awarded by the chairperson in view of the threshold involved."



The committee said, the EC, through its document which was not even signed or dated, had sought to 'unilaterally' exempt itself from the application of some provisions of the Public Procurement Act, regarding the functions of the Central Tender Entity Review Board.
"There is no evidence that the EC applied for and obtained Parliamentary exemption from fully complying with the provisions of the Public Procurement Act," the committee said, adding "Mrs. Charlotte Osei never allowed the internally created Entity Tender Review Panel, which she chaired, to work, as evidence on record showed that she approved contracts without the participation of the other members of the Entity Tender Review Panel."

The committee observed that the EC "preferred to use its internally created procurement units rather than those prescribed by the Procurement Act," adding "we observed from the evidence that of all the documents relating to procurement that were exhibited by the chairperson, only one document showed the use of Members of Parliament in procurement process as provided under the Public Procurement Act."

On Page 12 of the report, the committee said the Public Procurement Act required the EC to have two MPs on the Tender Entity Committee, whose function was to evaluate tenders and recommend award of contracts, except contracts that are sole sourced with the approval of the PPA.

However, the committee said "there is no evidence that the Entity Tender Committee ever met to evaluate tenders and approve the award of any of the contracts, the subject of all the six allegations investigated by this committee."


The committee on Page 47 said "the findings we have made on the allegations made against Mrs. Charlotte Osei, chairperson of the EC, clearly give a catalogue of breaches she inflicted on the Public Procurement Act."

"In all the procurement activities, which we had to investigate, the findings have been that Mrs. Charlotte Osei failed to comply with the Public Procurement Act," the committee said.

"The procurement activities include the engagement of Sory@Law as solicitors for the commission; the award of several contracts to STL; the two contracts for the partitioning and consultancy service of the new office block; the three contracts awarded for the construction of Pre-fabricated District Offices of the commission and consultancy thereof; the two contracts awarded to Dreamoval Ltd and finally, the two contracts awarded to Quazar Ltd from South Africa."

The committee said that "evidence before the committee showed that all these contracts were awarded by Mrs. Charlotte Osei contrary to the Public Procurement Act."