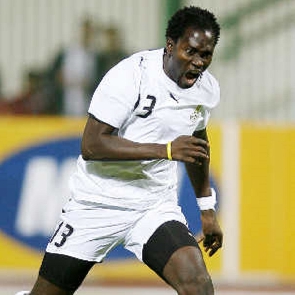 Former Ghana international, Joetex Asamoah-Frimpong has shared a harrowing experience of how he nearly lost his life while playing for the Black Stars in the 2006 World Cup qualifiers.
Recalling the incident that nearly led to the loss of his life, Joetex said it happened when Ghana took on Uganda in the 2006 World Cup qualifiers.

According to him after Michael Essien had scored the second goal in the game, he was presented with a clean chance to increase Ghana's lead but unfortunately for him that chance rather nearly cost his life. The career-threatening injury, left a mark on Joetex as he was rushed to the hospital for treatment. According to him, he still suffers from the injury

Joetex, "Because of the World Cup I almost died in Kumasi. Against Uganda, we won 2-0. After Essien's goal, I got a pass. It was a 1v1 with the goalkeeper, I run and the goalkeeper jumped and injured my rib."

"I was rushed from the pitch. It was not like after that injury I stopped playing but I continued playing the next game against South Africa, Cape Verde and all. Till now, the bone is swollen," he said in his interview with E.TV Ghana.

The former Young Boy player returned to play in Ghana's subsequent matches in the qualifiers.

Joetex Frimpong was an integral member of the Black Stars squad that qualified for the 2006 World Cup for the first time in the history of the country.
Despite his sacrifices for the nation, the striker was left out of Ghana's squad for the 2006 World Cup in Germany. 17 years after Ghana made its first appearance at the World Cup, Joetex says not playing at the World Cup still hurts him to date.

"After everything I did, because of the World Cup… I was disappointed and sad," I didnt go to the World Cup. "I didn't believe it. Until now I am still disappointed," he said.

Joetex won 2 CAF Champions League titles, 2 Nigeria PFL, Nigeria Cup and Tunisian Cup.

Watch video below



JNA/KPE