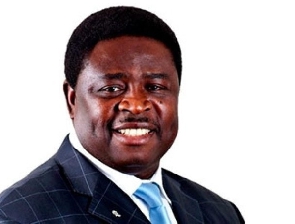 The former presidential candidate of the Convention People's Party (CPP), Dr Michael Abu Sakara Foster, has narrated the events that transpired before he became a politician.
Speaking in an interview on JoyNews, on Wednesday, September 6, 2023, Dr Adu Sakara said that he never in his wildest dreams envisaged going into politics.

"As an international civil servant, I don't do politics. My main job was to advise, promote and manage the programs in such a way that they would have the biggest impact. This we did in Tanzania, Uganda and other places.

"I had worked for about almost 25 years… Because I've lived in so many different countries with a growing family who were now grown up and were going to university, I decided that it was time to spend the rest of my time here. First of all, to get my own roots back. Secondly, to see how we can contribute to the system and my mind wasn't directly on partisan politics, I was more interested in the agribusiness sector," he narrated.

He said that he was decoyed into becoming a politician when he was forced to attend a CPP event by a friend when he was an international public servant.

"One day I was in my office and one of my colleagues. I worked with in Zambia, who was serious, a Nkrumahist and apan-Africanist … said to me 'I'm going to a meeting'. I said what is the meeting about. (He said) We are going to see how we can revamp the CPP.
"So, I said good luck and he responded, 'What do you mean good luck, I came to call you'. And I said why, you know that I'm still an international civil servant so I can get into any politics. And he said 'but you're here now you're almost retired, come along," he said.

He added that his friend insisted and he decided to go and observe the meeting which turned out to be the beginning of him joining the CPP and becoming a politician.

Dr Abu Sakara said that he resigned from his job and set up a consultancy in Ghana so that he would be more available for the CPP.

He added that he never regrets his decision to become a politician.

BAI/OGB
Ghana's leading digital news platform, GhanaWeb, in conjunction with the Korle-Bu Teaching Hospital, is embarking on an aggressive campaign which is geared towards ensuring that parliament passes comprehensive legislation to guide organ harvesting, organ donation, and organ transplantation in the country.

Watch the launch of the 2023 GhanaWeb Excellence Awards on GhanaWeb TV below:





Click here to start the nomination process for the 2023 GhanaWeb Excellence Awards
You can also watch the latest episode of Everyday People on GhanaWeb TV below:





You can also watch this episode of People & Places here: