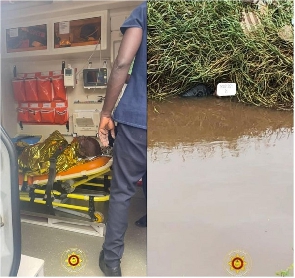 The Ghana Fire Service has announced that its officers saved a man in his 60s from drowning in the Chemu Lagoon close the Tema, in the Greater Accra Region.
In a post share on Facebook, the service narrated how its officers courageously saved the man from drowning in the lagoon.

The service described how its officers used lines and a ladder to pull the dying man from the lagoon.

"Rescuers from the Tema Newtown Fire Station saved an elderly man believed to be in his late sixties from drowning in the Chemu Lagoon behind the timber market in Tema.

"Rescuers who swiftly responded to the emergency on arrival at the scene found an immobile aged man stuck at a section inside the lagoon with his whole body except his head submerged.

"Quickly, a line and a ladder were marshalled by the Officer In-Charge to gain access into the river and across the lagoon to shoulder pull him out of the lagoon," parts of the post read.
The GFS added that the victim is now receiving treatment at the hospital.

"The casualty was handed over to the personnel from the National Ambulance Service who transported him to the Tema General Hospital, where he is receiving treatment."

View the post plus pictures from the scene of the drowning below:>



Watch the latest episode of The Lowdown below:


IB/OGB