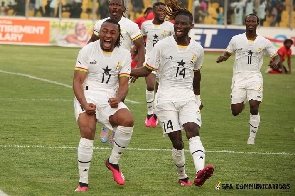 The latest squad announced by Chris Hughton as the men to face Madagascar in the 2023 African Cup of Nations Qualifier has sparked reactions from Ghanaians on social media.
Coach Chris Hughton named a 24-man squad made up of 3 goalkeepers, 8 defenders, 5 midfielders, 4 wingers, and 4 strikers for the upcoming match on June 18, 2023.

Notably, defender Alidu Seidu and forward Kwasi Okyere Wreidt made their return to the squad, while Ernest Nuamah received his debut call-up.

Unfortunately, injured players Antoine Semenyo, Mohammed Salisu, Tariq Lamptey, and Daniel Kofi Kyereh were left out of the squad. The squad also featured no Ghanaian-based players.

However, some fans expressed concerns regarding the omission of defender, Patrick Pfeiffer and midfielder, Baba Iddrisu from the squad.

Pfeiffer, who switched nationalities from Germany to Ghana, had not received a call-up since his switch.

Baba Iddrisu, who missed out on the World Cup squad due to a minor injury, has also not returned to the national team despite actively playing in Europe.

Fans also believed that local players like Vincent Atinga and Abednego Tetteh deserved a call-up to the Black Stars based on their recent performances.

They also raised concerns about why the Black Stars coaches always keep an eye on the domestic league but fail to reward players with a call-up.
Read some of the comments below


Big improvement on the squad list

Coach doing well

Left with dropping the landlords

— Nii (@Ga_nyo_Nii) May 30, 2023
So when will Patrick Pfeiffer a very talented player with the qualities of Jerome Boateng be called?

Undeniably he can be more reliable than some of the central defenders and DMs here, he can bring some stability into our defends.

He should be considered for trial.

— Danny the_ Truth (@DanielAbayatey1) May 30, 2023
Why do we still call Dede Ayaw????

— Ray-Ankrah (@RayAnkrah2) May 30, 2023
Where's Baba Iddrisu

— Kobby Minsk (@kobby_minsk) May 30, 2023
Hmmm like we have all forgotten about Kamal Sowah????

— Gross Profit???????? (@MichaelKobina2) May 30, 2023
Ernest Nuamah should be starting

— Yaw???? (@nharnahyawsika) May 30, 2023
so not even to train with the team for Abednego Tetteh, Sampson Eduku, Vincent Atinga, and Hafiz Wuntah

— EMPRA MEDA (@BamfiSamuel) May 30, 2023
Where's baba iddrissu and Patrick? Picking Edmund Addo and Nicholas ahead of these guys means Chris can't be trusted. It's still agenda "GFA Callup" pic.twitter.com/GmTrygFqV5

— Caleb Danso (@DansoCaleb) May 30, 2023
Chris is just another Addo l have said it here first .They deceived Ghanaian's watching the Gpl and went ahead to call Kwasi who doesn't even start for his team in division 2 where is Abednego .Pfeiffer has been good but went ahead to call Opoku wait when we meet any top teams

— Kwamedey (@Kwamedey11) May 30, 2023
Why are we limiting the squad to the same old. There are million and one younger skillful players waiting to be invited. Amartey's team is relegated, even so, he was not a regular but a bench warmer. Until we get it right with the team selection, we can't go anywhere!

— abraham nanayaw apreku yeboah (@abrahamyeboah78) May 30, 2023
Amartey??? Like take call Vincent Atinga of medeama. Amartey hasn't been playing at club level ooo. His team went to championship, bought a defender and benched amartey. That's how bad he has been.

— Waddle Komla Selasi Dogbey ???? (@togbe_waddle_) May 30, 2023
And oh what's Dede Ayew doing there? Come and give motivation?

— Waddle Komla Selasi Dogbey ???? (@togbe_waddle_) May 30, 2023
Coach koraa agyimi kyen obiaa

The value is the same

Dabiaa dada noaa

Akayi ????

— All star 2 Superstar ???? (@AgyEric) May 30, 2023
Abednego Tetteh said he is expecting a call up, his number no go through anaa?

— Serbian Mob (@Xikauu) May 30, 2023
Baba Rahman ryd now. pic.twitter.com/7xLMx9JsbM

— KREPT ???????????????????????????????????????????? (@calvin_amoah) May 30, 2023
Patric Pfeiffer played 24 matches in Bundesliga 2, scored 4 goals and got 1 assist as a DEFENDER. Guy was named in the Team of the Season.

What else must he do to earn a call up? Eii Africa.

— Apothecary (@Rapathologist) May 30, 2023
He actually picked the ayew Brothers that's lame. Ghana going backwards more more more more more and more and this coach is taken them there silently

— Richard Adu (@Kaido4231) May 30, 2023
it seems our scouts ankasa they don't really know the players performing well abroad honestly...Patrick Pfeiffer, Ransford Kogingofar(maybe it's wrong but whatever) deserve to be called up...Amartey and Dede are struggling for playing time but they are on the list eii

— Aaron Amoako (@Fancyxloid77) May 30, 2023
This coach makes his selection like Gareth Southgate

Same squad ????

— Olando©️ (@iAmFiiifi) May 30, 2023
So this Coach doesn't notice my hard work? I played 24 matches and scored 17 goals 5 assists

— The Gunners ❤️✌️ (@K_BlinkzGh) May 30, 2023
Yeah I really like this. He is trying to create the consistency between the players and also build a cohesion and understanding between the guys so we can represent next year, fully, with understanding and cohesion which will help us, if we are to win the AFCON. KUDOS, Gaffer!!

— Mac Tony????????????????????????????????????????❤ (@NanaYaowBoadu_) May 30, 2023
JNA/KPE