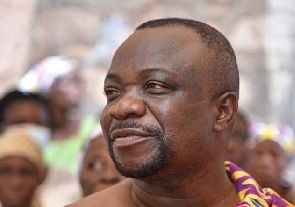 The Kumawu Constituency is a safe seat for the ruling New Patriotic Party given that it is in the party's stronghold of the Ashanti Region.
For the last 31 years since the Constituency was created under the Fourth Republican Constitution, the seat has been occupied by the National Democratic Congress (NDC) for only four years.

That was between 1993 and 1997 when the NPP's boycott of the first parliamentary election meant that the NDC's candidate in the person of Jargisu Ibrahim was elected into Parliament.

The NPP has since 1997 held the seat till date.

The interesting thing, however, is that one surname has become popular with the seat. Basoah.

Two of the three Members of Parliament for the area have the Basoah surname. Reo Addai Basoah, who between 1997 – 2002 before his passing at the Korle Bu Teaching Hospital. He thus served six out of his eight year mandate.

And then most recently, Philip Atta Basoah, who served from 2013 till his death on March 28, 2023 whiles in office.
He also served 10 out of his 12-year mandate (i.e. three terms)

The relationship between the two Basoahs is an uncle Reo Addai and nephew Philip Atta. The two had combined mandate of 20 years of which they served sixteen.

Between the two deceased Basoahs is Yaw Attah who was Kumawu MP between 2005 – 2013.



Philip Basoah's death confirmed

Born on Tuesday, November 18, 1969, Basoah died on Monday night, March 27, 2023, at age 54.
A parliamentary source close to the Ghana News Agency (GNA) confirmed the death on Tuesday, however, details of his demise are presently not known.

The former MP was one of three Majority MPs who were absent from Parliament on Friday during the debate and subsequent voting of some six new Ministers and two Supreme Court Judges.

In 2017, the late Kumawu MP first came to Parliament after winning the 2016 general elections in the constituency.

In the 2016 elections, he won the parliamentary seat with 21,794 votes making 78.2 percent of the total votes cast for the NPP.

In the 2020 general elections, he won the parliamentary seat with 14,960 votes making 51.1 percent of the total votes cast.

The late Basoah was a member of the sixth and seventh Parliament.
Before being an MP, he was a Chief Executive for the Sekyere East District from June 2005 to January 2009 and was also a Tutor at the Agogo State College.

Until his death, Basoah was the Chairman of the Employment, Social Welfare, and State Enterprises Committee of Parliament.

He was a Christian.

You can also watch this episode of People & Places here:



Watch the latest episode of The Lowdown below:


SARA