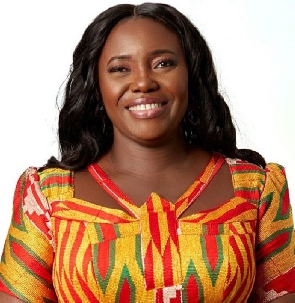 It has emerged that the Member of Parliament for La Dadekotopon, Rita Odoley Sowah, absented herself from her late father's funeral just to be in parliament to vote on President Nana Addo Dankwa Akufo-Addo's appointees.
The House had an extended sitting as it considered the votes on the inconclusive report of the Appointments Committee of Parliament, on the nominations of some six persons as ministers and one deputy minister.

Although the Minority MPs from the National Democratic Congress (NDC) had clearly stated that they would reject the nominations, the results, as announced by the Speaker of Parliament, Alban Bagbin, showed a different picture.

In the end, all the nominees got approved by parliament, with all of them receiving majority votes. It is worth noting that the House had 136 MPs on either side.

Reacting to this, NDC member, Dzifa Gunu, used the opportunity to celebrate the La Dadekotopon MP for sacrificing so much for the party, although their intentions were not met.

"On Thursday, whilst your late dad was laying in state to be buried on Friday, you were in Parliament because you were responding to a call to service.

"Friday, the final day of your late dad's funeral, you spent less than 3 hours at the church service, you couldn't stay to even watch his coffin being carried to the cemetery, you left for Parliament House.

"At a point, the Regional Chairman called me to enquire if you were in parliament, indeed you were in parliament for the rest of yesterday.

"Unfortunately, sadly, your sacrifice was in vain, the reason why you couldn't fully be at your own dad's funeral didn't materialise," he wrote.



Although the NDC MPs have stated on several occasions, including during debates ahead of the vote, that they would reject the nominees because the government needs to rather downsize, when the results were declared, it showed a sharp contrast.
All the six ministerial nominees were approved by majority votes, with many describing the move as a betrayal from the NDC MPs, especially when there were 136 of them on either sides of the House.

The MPs for Madina, Tamale North, and North Tongu, Francis-Xavier Sosu, Alhassan Sayibu Suhuyini, and Samuel Okudzeto Ablakwa respectively, have also since put out cryptic messages, registering their disappointments.

The House also approved the nominations of two Supreme Court justices.

The leadership of the NDC is yet to issue a statement on the outcome of this vote.

This is how the MPs also voted on the day for the ministers:

Total eligible 275

Absentees = 3

Total valid votes = 272

KT Hammond, Minister for Trade and Industry

Yes = 154
No = 116

Rejected = 1

Abstention = 1

Bryan Acheampong, Minister for Food and Agriculture

Yes = 167

No = 98

Rejected = 1

Abstention = 3

Stephen Asamoah Boateng, Minister of Chieftaincy and Religious Affairs

Yes = 147
No = 122

Abstention = 3

Mohammed Amin, Minister of State at the Presidency

Yes = 152

No = 117

Rejected = 1

Abstentions = 2

Osei Bonsu Amoah, Minister of Local Government and Decentralization

Yes = 149

No = 120
Abstentions = 2

Stephen Amoah, deputy minister of Trade and Industry

Yes = 146

No = 123

Abstentions = 3

AE/FNOQ