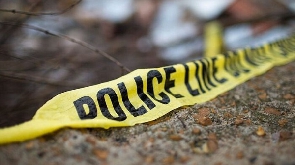 Western Regional correspondence
Seven persons were injured in an accident that happened at Essaman Kakraba, a community in the Tarkwa Nsuem Municipality after a Honda Pilot private car veered off the road and ran into a fried yam seller.

The driver of the car with registration number GT-3246-21 was from Bogoso heading towards Tarkwa. It is not clear what really caused the accident.

According to an eyewitness, the incident happened on January 31, 2023 around 1pm when the private car veered off the road, knocked down a "galamsey" operator, a lady and another person and ran into the yam seller, knocking her and another person.

Two other children who were running for their lives also fell into a gutter and hurt themselves.

Three people were severely injured while four others sustained minor injuries.
The fried yam seller Aba Yaa, who spoke to Ghanaweb said "I was serving someone who was buying yam when I heard to horn of the car very loud, and at once, the car ran into me and pushed the other man to one corner, and I shouted for help and people came to our rescue".

The injured were sent to the Apinto Government Hospital in Tarkwa where those with minor injuries were discharged.

Two of those who were severely injured were discharged on Wednesday February 1, 2023.

One of the severely injured whose neck was affected is till receiving treatment at the hospital.

Residents of the community, say because that portion of the road is very straight and smooth, the drivers drive on top speed at that section and that has claimed lots of lives and injured several persons.
They therefore called on the assembly to construct speed rumps in order to save lives there.

Speaking in an interview, Assembly Member of the area, Michael Abeka noted that "within a period of six to seven month, this is about the tenth we are recording accident on this road".

He said he has written to the assembly to construct speed rumps in that area in order to reduce the high rate of accident on that part of the road, but he is yet to receive any positive result on that.