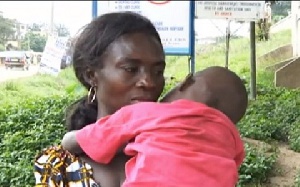 The Gender Ministry has called on the police to intensify their search and arrest a man who allegedly defiled a four-year old girl at Assin Adadientem in the Central Region.
The alleged perpetrator is on the run after the chief of the town declared him innocent. The chief says action cannot be taken against the accused because the community deity says the suspect is innocent.

Reacting to the development on the Executive Breakfast Show (EBS) on Class91.3FM on Tuesday, 26 October, 2017, Helena Obeng Asamoah, the Acting Director at the Department of Childhood at the Gender Ministry, called for the arrest of the perpetrator.

"That is very bad and sometimes in the community they try to protect the offender and then the child suffers. It is seriously wrong to leave the offender and the let the child suffer, so I think the police have to arrest him…the child doesn't have to suffer for the man to be set free," she stated.
There is pressure on the Gender Ministry to seek justice for the little girl who is currently receiving treatment at the St Francis-Xavier Hospital in Assin Fosu.

Meanwhile, reports from a local journalist suggest defilement is rampant in the Assin Fosu Municipality.