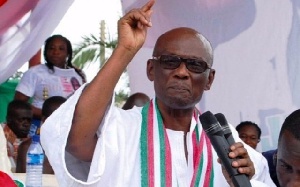 Special aide to Professor Edmund Delle, Selasi Kossi-Ackon, has denied reports of his boss declaring his intension to contest the 2020 presidential slot for the Convention People's Party (CPP).
In a telephone interview with rainbowradioonline.com from Addis Ababa where he is currently, the aide said, ''I can say on authority that Professor Delle has not declared his intension to contest''.

The Daily Heritage newspaper in its Friday's October 12, 2018 edition published a story with headline, ''Edmund Delle to contest 2020 Prez election.''

According to the paper, the current national chairman of the Nkrumahist party has declared his intention to contest when nominations are opened.. The paper said, the CPP chair was looking forward to rebrand the party to make it attractive to wrestle power form the two major political parties i.e. the ruling New Patriotic Party (NPP) and main opposition National Democratic Congress (NDC).

But in an exclusive interview, the aide said some newspapers in the past-fabricated similar stories when his boss had not declared to contest.
''We have denied this in the past and we still deny it because Professor Delle does not have the intension to contest as presidential candidate.''

He said, ''as and when the decision is made, we will let you know.'' Professor Edmund Delle would have to do a lot of consultation before he even decide to stand as presidential candidate for the CPP. As it is now, me being his aide; I speak on authority that we don't have that intension,'' he added.

''Any publication on this is false, is wrong and they are just exaggerating,'' he added. He concluded by saying, ''I am repeating this is not true; when such decision is made, we will let you know. But as at now it is not true and we have no intension.''