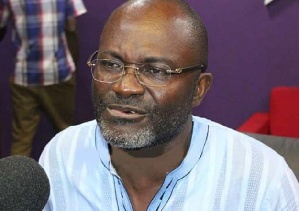 Member of Parliament (MP) for Assin Central, Kennedy Ohene Agyapong has denied rumours that he has been poisoned to death.
The Legislator speaking on Accra-based Oman FM said he is still alive and not suffering from any food poisoning as has been reported by certain websites.

"I am not dead, I am very much alive and kicking, very active and not suffering from any form of food poisoning…," he fumed.

The firebrand MP accused pro-National Democratic Congress (NDC) media of broadcasting that he was dead.
According to the MP, the media houses claimed he had been poisoned to death by people from his own political party.

Ken however insisted that it was people whose corrupt activities he has been exposing that are pushing that agenda.

"If they think I am dead, they lie bad because I am very much alive…I will continue exposing the corrupt ones and they must be ready for me, some people even including Pastors would go to jail for embezzling government funds…," he threatened.