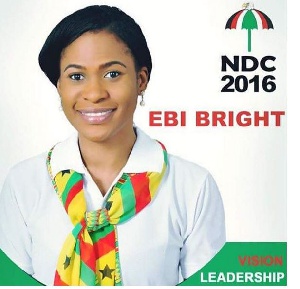 Actress Ebi Bright has described as chaotic and embarrassing the Nana Addo-led New Patriotic Party (NPP) government.
Speaking in an interview with TV3's Adwoa Amofa Osei, the National Democratic Congress (NDC) 2016 Parliamentary Candidate for Tema Central said the running of the country has been uncomfortable to watch as a Ghanaian.

"It's not been comfortable. I am embarrassed by so many things that we are witnessing, but it is an opportunity for most Ghanaians to see clearer the choice they made."

According to Ebi Bright, the current government is full of talks and propaganda with no action to actually work for the country.

"The issues of government should be work, not talk. A lot of the things we were lied to about have been clearly proven in the way things are done in the country."
She also accused the NPP government of running the country on a family and friends basis with little or no care for the ordinary Ghanaian.

The actress contested on the ticket of the NDC in the Tema Central Constituency during the 2016 general elections and lost to the NPP's Kofi Brako.

She further noted, her party will return to power to provide better solutions to issues confronting the country.