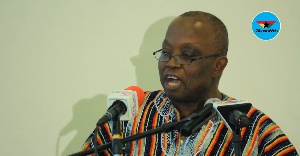 Auditor-General, Daniel Domelevo has said he is ready to loose his job over his resolve to expose corrupt people and speak the truth.
According to him, he is not worried about those who are against his method and their plans to get him sacked. He was speaking at the 3rd Kwadwo Baah-Wiredu Memorial Lecture, held in Accra on Thursday.

Speaking at the public lecture on the theme "Protecting the Public Purse – keeping the gate shut before the horse bolts", Mr. Domevelo said he is not surprised people are fighting him for doing the right thing. He added:"In the developed countries when you're caught you're finished; there are consequences.

In Ghana or Africa when you're caught you can even bluff them; they say 'and so what' because he knows nothing will happen".
"We all know the truth, who will say it but like I said, as for me I will say it if that means to go home. I'm ready to go home this evening.

That's the problem Ghanaians have, they think their life and the job are the same so going home becomes so difficult for them.

If I should say the truth and because of that I should go home, my dear brothers and sisters I'm ready to go home even this evening".