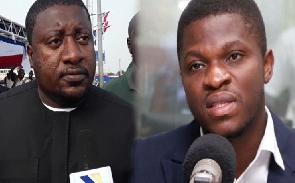 Sammy Gyamfi, the National Communication Officer of the National Democratic Congress (NDC), has taken a swipe at the Electoral Commission of Ghana following the commission's criticism of a statement he made.
Speaking in an interview on 3FM, on Wednesday, June 7, 2023, monitored by GhanaWeb, Sammy Gyamfi said that the EC's statement seems to have been written by the New Patriotic Party (NPP).

He added that the EC's explanation that the concern he raised also happened in the past which makes it correct does not make sense.

"When you have sinned against the law, you cannot say that somebody too has sinned against the law yesterday so he is stopped from complaining. In matters of legality, there is nothing like it happened yesterday so it is okay.

"A multitude of illegalities does not constitute legality. They have now conceded that they have been doing the wrong things in time past. Are they saying that we should allow them to continue doing the wrong thing? What kind of whack logic is that?

"Who wrote that statement? I'm very sure that this statement was edited by Nana B and Abronye at the NPP headquarters. That is who bastardise the Electoral Commission is today," he said.
Background:

Sammy Gyamfi, in a statement he issued, raised alarm over an alleged plot by the ruling New Patriotic Party (NPP), and the Electoral Commission to insert the name of an unqualified candidate into the party's voters' register.

The purpose of this alleged illicit move is purportedly to enable Charles Opoku to participate in the NPP Parliamentary primaries for the upcoming Assin North by-election.

According to Sammy Gyamfi, this action directly violates the nomination form requirement for the Assin North by-election, which explicitly states that a candidate must be a registered voter in the Assin North Constituency. However, Charles Opoku, according to Sammy Gyamfi, is not a registered voter in Assin North.

The EC, in turn, slammed the NDC national communication officer for the allegation he made.
"This current allegation is no different. It is baseless and unfounded and a figment of the imagination of the National Communication Officer. We call on all well-meaning Ghanaians to ignore it.

"Ghana's democracy has come of age and we call on Sammy Gyamfi to exercise maturity, decorum and truth in his discussions on the EC. We urge him to go out and campaign and leave the EC alone," parts of the statement read.

Also, watch the latest episode of GhanaWeb Election Desk on GhanaWeb TV below:




Meanwhile, watch the first episode of Everyday People on GhanaWeb TV below:






IB/FNOQ