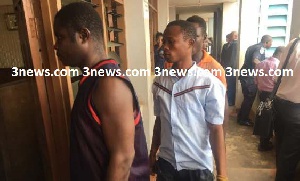 Child rights activist, Bright Appiah, says he will not apologise for demanding a juvenile trial for an alleged 12-year-old boy being held together with others in connection with the gruesome murder of Major Adam Mahama.
The boy, Ebenezer Asamoah, had told the Police investigators upon his arrest in May that he was 12 years old, causing Mr Appiah to demand a juvenile trial for him. He was arraigned on murder charges with adults at an Accra Magistrate Court. But it emerged in court on June 6, 2017 that Asamoah had drastically reduced his age.

Prosecutors presented to the Accra Central Magistrate Court, a spreadsheet investigators obtained from the district education office, stating Asamoah's age when he completed Junior High School at Denkyira Obuasi in the Central Region.

They argued that the boy was 19 years old at the time he sat for the Basic Education Certificate Examination in April 2015. The new development caused some level of public disaffection with Mr Appiah, as some people condemned his call for juvenile trial for the boy and demanded that he apologise for his comments.
Bright Appiah However, Mr Appiah who is the Executive Director of Child Right international has laughed off calls for him to apologise, stating that he did nothing wrong in making those comments regarding a juvenile trial for Asamoah.

He argued he demanded for a juvenile trial for Asamoah based on the Police facts available at the time, which was to the effect that the boy was a juvenile, hence he cannot be faulted.