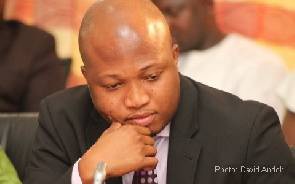 Member of Parliament for North Tongu, Samuel Okudzeto Ablakwa, has said he is ready to appear before the Privileges Committee of parliament because he has a clear conscience and knows he stands on the side of the truth.
According to him, he is not a person who can be intimidated in the discharge of his constitutional duties.

Mr Ablakwa's statement comes after the Speaker of Parliament, Prof Aaron Mike Oquaye, referred the report of the five-member committee set up to investigate claims that the Trade Ministry extorted $100,000 from expatriate businessmen to allow them to sit close to the President Nana Akufo-Addo during the Ghana Expatriates Business Awards in December 2017, to the privileges committee.

The 146-page report exonerated the Trades Ministry and organisers of the awards of any wrongdoing as claimed by Minority MPs Mr Ablakwa and Muntaka Mubarak.

Prof Oquaye charged the Privileges Committee to investigate all documents tended at the "cash-for-seat" committee as well as any other matter that will arise worth investigating and "take appropriate action against whoever, whether member of the House or otherwise, involved in that which parliament considers to be dealt with".

He emphasised that: "An allegation must not simply be thrown into the air and then you ask parliament [to] go and investigate. They (allegations) must be substantial and not an abuse of due process".

Mr Ablakwa in response to the speaker's ruling and the report of the cash-for-seat-committee posted on Facebook: "Rather a farcical fatal tragedy that the Majority in Parliament could not suppress partisan interest in favour of their conscience and the national interest in the Cash for Seat Scandal.
"Thankful to God, the proceedings of the Special Committee were conducted in the full glare of the public making today's attempted cover up in Parliament laughable and an exercise in futility.

"Ghanaians have always been discerning and know Founder Chairman Ambassador President Ashim Morton cannot take President Akufo-Addo's place. More fundamentally; Ghanaians know it cannot be right, ethical, moral, legal nor conscionable to sell access to the President of Ghana to the highest bidder.

"Today's charade which can only amount to a travesty in Parliament is a pathetic addition to the countless comedy of contradictions and conflicting accounts that Government has been engaged in since this scandal erupted.

"I am not one to be intimidated in the discharge of my constitutional duties, therefore, I can't wait to appear before the Privileges Committee or any other Committee as the Speaker may so direct considering that I am of the fullest conviction and the clearest of conscience that the facts and the truth are and have always been on our side.

"Truth stands."