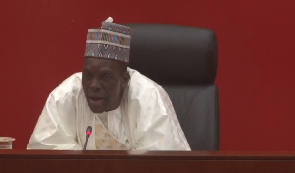 The Speaker of Parliament, Alban Bagbin, has said that he can not expunge the name of the ousted Member of Parliament (MP) for Assin North, James Gyakye Quayson, from the records of the house as ordered by the Supreme Court of Ghana.
Even though the speaker has declared the Assin North seat vacant, the name of Gyakye Quayson has not been removed from the records of parliament.

According to him, the order by the court is unprecedented and must be decided on by the entire house and not him alone.

"…parliament will have to dispassionately consider the next course of action on how to comply with the order of the Supreme Court to 'expunge the name of James Gyakye Quayson as a Member of Parliament for the Assin North Constituency'.

"The house is to decide on the procedure to do so, not the speaker. I count on your good judgment on this matter," Bagbin said on the floor of parliament on Tuesday, June 6, 2023.

"However, I am enjoined by the standing orders of parliament to make provisions as I deem fit since no procedure has been laid down by any rules of practice of the house to comply with this new development of an order on a declaratory judgment.
"This is the first time parliament has been ordered to do such a thing, even though we have had similar cases before," he added.

The Supreme Court of Ghana, on May 17, 2023, ordered the Parliament of Ghana to expunge the name of James Gyakye Quayson as a Member of Parliament (MP)

The apex court of the land ruled that Quayson was not qualified at the time he contested the election 2020 in the Michael Ankomah Nimfah vrs James Gyakye Quayson case.

According to the court, the ousted Assin North MP failed to prove that he had renounced his Canadian citizenship when he filed his nomination to contest in the 2020 general elections.

Watch a video of the speaker's remarks below:


Meanwhile, watch the first episode of Everyday People on GhanaWeb TV below:



You can also watch the latest episode of People & Places here:




IB/SEA