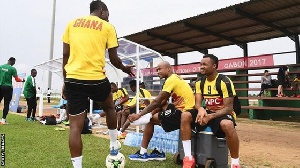 Ghana captain Asamoah Gyan has rubbished claims he masterminded the exclusion of Andre and Jordan Ayew from the Black Stars squad for the double-header against Uganda and Saudi Arabia.
Coach Kwesi Appiah yanked out the Ayew brothers from his squad that played out a goalless draw against the Cranes in a 2018 World Cup qualifier last Saturday.

Shocking reports of Gyan influencing the selection of players into the team have surfaced in the West African nation.

And the Turkey-based striker rubbished the claims as preposterous.

"I am also a player in the team and even as a captain I am under the coach. The coach makes his decision and it is normal for people to complain when he makes decisions like this," he told Accra-based Hot FM

"At the end of the day I am not the coach to be making decisions. Although everybody knows the experience and quality of Jordan and Dede Ayew in the national team but it is the decision of the coach to invite them into the national team or not.

"Everybody is entitled to his opinion as to why the Ayews were dropped. I will not blame anybody but will blame those who are trying to create rivalry between me and the Ayews in the Black Stars which is not helping.
"It is the coach who has made his decision. I am not part of the team same as the Ayews".

Asamoah Gyan also touched on the press conference held by some football fans in the Northern region concerning the exclusion of northerners in the Black Stars which he stated us highly unacceptable.

"It is very bad in associating tribalism to our national team. What if other tribes begin to hold press conferences anytime a player is excluded from the Black Stars? Those things will not help the nation.

"At the end of the day it is the coach who has taken his decision and none of us will play the national team for the rest of our lives.

"There are no untouchables in the Black Stars. There are so many reasons players are invited into the national team. Every coach has his reason for calling players into the national team", he added.