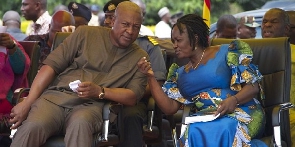 Broadcaster Bridget Otoo has reacted to a report alleging that the ruling National Democratic Congress (NDC) is set to elect a new running mate ahead of the 2024 presidential elections.
The Daily Guide newspaper reported this week (June 28) that former president and flagbearer of the NDC, John Dramani Mahama, has decided to replace Professor Naana Jane Opoku-Agyemang as running mate.

According to the report, the party is currently engaged in an extensive consultative process to determine the most suitable replacement.

The former Minister for Education partnered the John Mahama in the 2020 general elections.

"I don't believe this story one bit!" Otoo wrote in a Facebook post whiles sharing a link to the story.

She is known to be a staunch supporter of the NDC and of the cice presidential canidature of former Vice Chancellor of the University of Cape Coast (UCC).

The newspaper report stated that sources close to the former president revealed that a listening survey is being conducted among NDC delegates to gauge their preferences for Mahama's new running mate.
The alleged decision to drop Professor Opoku-Agyemang has sparked divisions within Mahama's inner circles, as some still support her candidature due to her previous role as the former Education Minister in Mahama's administration.

Critics who advocate for the removal of Prof. Opoku-Agyemang argue that she has contributed minimally to the NDC's performance in the 2020 election, especially in her home region, Central.

Others are urging the party to consider candidates from regions other than Central to broaden their voter appeal.

Potential running mates if Jane is removed:

a. Former Chief of Staff, Julius Debrah

b. Former Chief Executive of the National Health Insurance Authority, Sylvester Mensah
c. Former Vice-Chancellor of the University of Professional Studies, Accra, Joshua Alabi.

d. Former BOST Managing Director, Kingsley Kwame Awuah Darko

e. Former Chief Executive Officer of Ghana National Petroleum Corporation, Alex Kofi Mould

f. Former Brong Ahafo Regional Minister, Eric Opoku, who has the support of Lordina Mahama.

SARA

Watch the latest episode of the Lowdown on GhanaWeb TV below:




You can also watch the newest episode of Legal Agenda on GhanaWeb TV below:





Share your news stories and ideas with GhanaWeb


To advertise with GhanaWeb