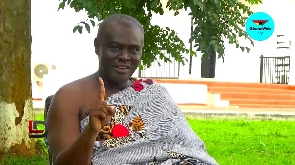 The Dormaahene, Osagyefo Oseadeeyo Dr. Nana Agyemang Badu II, has said he does not care if the United States refuses him a visa because he does not support LGBTQ+.
He commented in response to a claim by the US ambassador earlier this year.

In August this year, the US Ambassador to Ghana, Virginia Palmer, warned that Ghana must be circumspect about approving a bill to ban LGBTQ+ activities in Ghana.

According to her, the passage of the bill into law could affect trade and investment in the country.

She said that several American companies are preparing to invest in Ghana, therefore any law that discriminates against LGBTQ+ people could hurt the country's reputation and make it less attractive to investors.

"Lots of ethnic communities make Ghana strong, stable, and attractive for investments. I hope it stays that way with regard to the LGBTQ community. They should be managed to be made the colour of the money green or red if it's Ghanaian, but if it is discrimination, then that will send a signal not to [only] LGBTQ investors and exporters but to other American companies. Then Ghana will be less welcoming…so I hope it stays that welcoming," the US Ambassador to Ghana Virginia Palmer said.
The Dormaahene said Ghana would rather stay poor than take assistance from other countries who will demand that the country practices LGBTQ+.

He said: "We don't need their money; we prefer to be in our poverty than to promote the LGBTQ. What have we gotten from them? How much aid did they bring?... People like her cannot talk the way she's talking. She cannot.

"If you want to go to the US, or UK, use the way. Me, one day if I decide to go but if you refuse me the visa, mm I care less. I don't need that. I can't exchange the custom of our people with pittance."



SSD/NOQ
Ghana's leading digital news platform, GhanaWeb, in conjunction with the Korle-Bu Teaching Hospital, is embarking on an aggressive campaign which is geared towards ensuring that parliament passes comprehensive legislation to guide organ harvesting, organ donation, and organ transplantation in the country.

Watch the latest edition of BizHeadlines below



Click here to start the nomination process for the 2023 GhanaWeb Excellence Awards