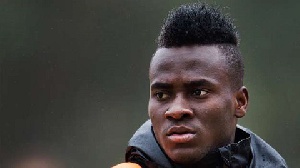 Ghana attacker David Accam has honestly admitted he has done little to be worthy of a Black Stars invitation and is not fussed about being constantly snubbed by national team handlers in the last 2 years.
Accam last played for the Black Stars in an international friendly against USA in July 2017 and has since been overlooked by national team coaches. Despite not representing Ghana in close to 3 years, Accam is unperturbed about the situation, insisting that he's not contributed much on the pitch to be worthy of such an opportunity.

"No I don't feel like that (regret) because in the last two years, personally I don't think I have performed really well to deserve a national team call-up" he said.

According to Accam, injuries have nibbled his chances of playing consistently while a transfer to Philadelphia Union from Chicago Fire also affected his form. He has eventually transferred to Nashville SC after spending 6 months on loan at Columbus Crew. All this happened in the space of two years and the 29 year old believes this also impacted negatively on his form.

"I've had like 3 surgeries in the last 2 years and that has made me not to perform well" he lamented.
Accam however believes the recent streak of omissions from the Black Stars squad will serve as a motivation to work harder as he bids to return to the setup.

"It's a motivation to perform well if you want to come back to the national team because there are a lot of players performing weekly for their teams (clubs), if you want to go back to the national team it means you also have to perform well."

"At the moment I haven't done it so I don't feel neglected, I just feel like it's a meditation for me to work harder" Accam concluded.