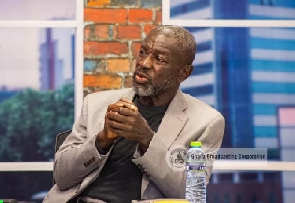 Founder of defunct UT Bank, Prince Kofi Amoabeng, had his licence to operate a financial institution in Ghana revoked by the Bank of Ghana in 2017.
This led to the collapse of his bank which subsequently had dire consequences on his finances.

In an interview on GTV, the once-vibrant businessman noted that he was no longer wealthy.

He declared his financial status as broke while speaking to Kafui Dey on GTV.

Mr Amoabeng noted that he currently has in possession a watch and a pair of shoes.

"I don't have wealth, I'm broke and Ghanaians (those who don't like people who progress) should be happy [about that]," Mr Amoabeng said.
"But Ghanaians...tend to think I've got some wealth stashed somewhere because they are putting themselves in my shoes: they think if they were like me, if they had owned a bank then they would have a lot of money outside but my wealth was in the bank and in the company, so, while the company and the bank were doing very well, I was worth a lot of money but the bank went through losses and so on and so forth, therefore, my capital went with the bank. I think it's not difficult to understand," he added.

But Mr Amoabeng had in an earlier interview on TV3 on October 4, 2022, said he had to sell his mansion to prevent himself from getting broke.

Background

The BoG revoked licences of UT Bank Ltd and Capital Bank Ltd and approved a Purchase and Assumption (P&A) transaction with GCB Bank Ltd that transferred all deposits and selected assets of the two banks after they were found to be deeply insolvent.

The Central Bank subsequently revoked the universal banking licences of five banks including UniBank Ghana Limited, Construction Bank, Sovereign Bank, Royal Bank and Beige Bank and issued a licence to a newly created bank – Consolidated Bank Ghana Limited – which is wholly owned by the Government of Ghana.
BoG further revoked the licenses of 23 insolvent savings and loans and finance house companies.

The companies are GN Savings and Loans Ltd., Ideal Finance Ltd., IFS Financial Services Ltd., Legacy Capital Savings and Loans Ltd., Midland Savings and Loans Company Ltd., Sterling Financial Services Ltd., uniCredit Savings and Loans Ltd., Women's World Banking Savings and Loans Co. Ltd., Accent Financial Services Ltd. and Adom Savings and Loans Ltd.

Others are AllTime Finance Ltd., Alpha Capital Savings and Loans Ltd., ASN Financial Services Ltd., CDH Savings and Loans Ltd., Commerz Savings and Loans Ltd., Crest Finance House Ltd., Dream Finance Company Ltd., Express Savings and Loans Company Ltd., the First African Savings and Loans Company Ltd., First Allied Savings and Loans Co. Ltd., First Ghana Savings and Loans Co. Ltd., First Trust Savings and Loans Ltd. and Global Access Savings and Loans Company Ltd.

Watch the latest edition of BizTech and Biz Headlines below:






ESA/FNOQ