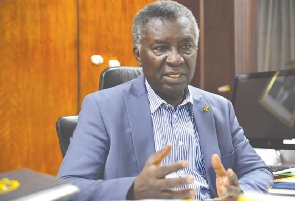 Prof Kwabena Frimpong-Boateng, a former presidential hopeful of the ruling New Patriotic Party (NPP), has said that he is not sure of the party he would vote for in the 2024 presidential elections.
Speaking in an interview on City FM, on Tuesday, September 19, 2023, Prof Frimpong-Boateng indicated that he is not sure of voting for the NPP in the 2024 polls because things are really bad under the current government.

Frimpong-Boateng, who is a former Minister for Environment, Science, Technology, and Innovation of President Nana Addo Dankwa Akufo-Addo, added that the opposition National Democratic Congress (NDC) has also not shown a sign that they would be any better.

"I have not decided (on who to vote for) yet. Because it is fluid now. What I don't like is an attempt to buy votes, force people in a certain direction. If you do that it is a testimony to the weakness of the candidate that you are supporting.

"It will be difficult for the NPP to win the 2024 elections. It is a fact that they [the NPP] have over-promised and under-delivered but everything is possible but the NDC is also not giving me any hope," he said.

Prof Frimpong-Boateng also stated that he envisaged that his party would be in power for over 40 years but things are now so bad that the NPP is in danger of losing the 2024 elections.

"When I was in government, I said the way the NDC had mismanaged the country, we were going to help the president and work so that the NPP would still be there even after forty years and there would be no romantic ideas about the NDC again and now look at where we are. I thought we were going to work and there would be no romantic ideas about Mahama and the NDC ever coming back," he said.
BAI/AW

Watch the latest episode of Everyday People on GhanaWeb TV below:



Ghana's leading digital news platform, GhanaWeb, in conjunction with the Korle-Bu Teaching Hospital, is embarking on an aggressive campaign which is geared towards ensuring that parliament passes comprehensive legislation to guide organ harvesting, organ donation, and organ transplantation in the country.

Click here to start the nomination process for the 2023 GhanaWeb Excellence Awards