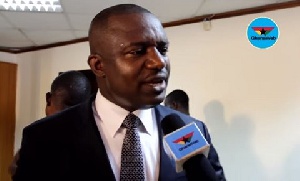 Former Deputy Minister of Power under the erstwhile Mahama government, John Abdulai Jinapor, has debunked reports that he owes the Metro Mass company a huge amount of money.
A list of former government appointees allegedly owing the state owned company, has gone viral on social media.

One of the reports alleged that, John Abdulai Jinapor owes the transport company an amount of GHC800 after settling GHC43,000 arrears.

Other names on the alleged list include, Samuel Okudzeto Ablakwa, Ras Mubarak, Dzifa Attivor, Mahama Ayariga, among others.
However, John Jinapor has flatly denied the allegation, saying the move is a calculated attempt to intimidate him.

Below is a statetment on his Facebook page:

Is it not interesting and funny? Last week I was listed amongst MPs who were supposed to have collected what was termed "double salary" (as MP and Minister). What my detractors failed to realise is that I was not an MP under President Mahama's administration let alone collect salary from Parliament. Today I'm suppose to be on a list of so called politicians who are indebted to the Metro Mass Service, for some services rendered. For the record, I have never used or contracted the services of Metro Mass Co. Ltd so I cannot be said to be indebted to same. Funny isn't it. These machinations by misguided and self seeking elements as well as their pay masters will not deter nor intimidate me in any shape or form. I'm resilient and so shall it be……..