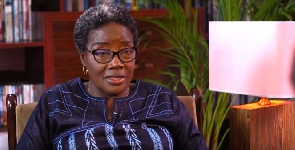 Wife of late former vice president, Kwesi Amissah-Arthur has expressed her open dislike for the 'Second Lady' tag usually preferred upon the wives of vice presidents in Ghana.
According to Matilda Amissah-Arthur, the term is not one that is widely known but merely a Ghanaian and African one coined to describe the wives of vice presidents.

Speaking in an interview with Joynews, she said;

"I hate Second Lady. There's nothing like Second Lady. It's nowhere, it's purely a Ghanaian, African thing coined. There is First Lady wife of the president, everything else is wife of this, wife of that.

"It's only in Africa that you will hear Second Lady and I hate it with passion. Wife of the former vice president, that is the designation," she added.

Matilda Amissah-Arthur said this while speaking about her motivation for writing one of her books titled; 'The Wife of the Former Vice President; My Journey'.

According to her, the book was a chronicle of her experiences as the wife of a vice president's wife; a book she started before the demise of her husband.
"While my husband was in office, I realized that there were no books that talk about how the spouse of elected people into office are doing or what they think and so on. So I started thinking of writing something and it was finished when the NDC lost power and that is why it is called; 'The Wife of the Former Vice President; My Journey'.

"That book talks about what I did, not as putting in every former vice president's wife should do but just sharing my story," she added.

You can also watch this episode of People & Places here:





WA