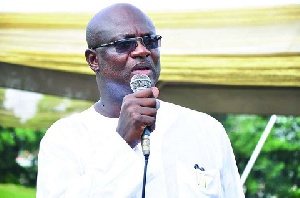 Former Kumasi Metropolitan Chief Executive, Kojo Bonsu has denied claims by Reverend Kusi Boafo that he is among the beneficiaries who grabbed state vehicles at cheap prices.
Mr Bonsu had been accused of taking his official V8 Landcruiser away but he is asking the government to conduct proper checks on alleged missing state vehicles.

"People should do their investigation before they talk, the car I was using in Kumasi belonged to the national security and was returned two days after l left office" Kojo Bonsu disclosed at the back of allegations made against him by his successor Hon. Osei Assibey Antwi in a text message to the host of Kumasi-based Nhyira FM's morning show Kofi Asante Ennin said.

Earlier, the former Chief of Staff, Julius Debrah, had described as "false and malicious" claims by the Chief Executive Officer of the Public Sector Reforms, Thomas Kusi Boafo that state cars were sold at cheap prices to members of the National Democratic Congress (NDC) under the John Mahama-led government.

Mr Boafo alleged in an interview with Kessben TV that: "The cars which arrived on March 15, 2015 were sold at cheap prices within a period of three months."

However, Mr Debrah denying the claims in a statement said: "For the avoidance of doubt, I wish to state as follows:

1) Under no circumstance and at no time during my tenure as Chief of Staff under the previous government was any such vehicle either bought or sold at the price quoted by Kusi Boafo. His claims in that regard are therefore totally false and malicious.
2) On the matter of vehicles bought by ex-government officials, Mr Kusi Boafo and his principals are aware of a long-standing policy under which salon cars aged two years and above are permitted to be bought by departing government officials. This policy has been in existence since the advent of the fourth republic and persons benefitting from it are made to pay a commensurate value objectively determined by professional valuers.

"It is surprising, and perhaps underscores the malicious intent of Mr Kusi Boafo, that he failed to disclose vehicles bought by members of the Kufour administration on the eve of their exit from office under the same policy and processes in 2008/2009.Many of the beneficiaries of that policy happen to be high-profile members of the Akufo-Addo government.

"These latest false claims follow similar claims by the Minister for Information, Mustapha Hamid, which are all false.

"They also appear to be a rehash of untruthful claims made by Director of Communications at the Presidency, Eugene Arhin, to the effect that over 200 vehicles could not be found at the Presidency.

"We wish to assure, however, that we stand prepared to correct such misimpressions and expose the mischief therein."