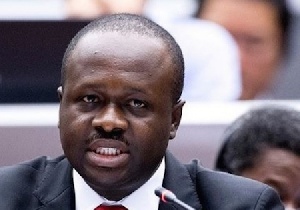 Former Minister of Communications, Dr Edward Omane Boamah, has denied reports claiming he was behind the circulation of pictures of a white V8 purportedly belonging to Information Minister Mustapha Abdul-Hamid, with a customised plate "HAMID1 18" on social media.
Mr Abdul-Hamid has come out to deny owning that V8 and described the plate as fake.

"I do not own the said vehicle. I have never owned or used a white 4×4 wheel vehicle," Abdul-Hamid said in a statement.
Dr Omane Boamah was accused of churning out that propaganda to court disaffection for the Minister.

In a statement on his Facebook page, however, he said: "My attention has been drawn to the above false claim attributed to my successor, the Honourable Minister of Information, Mustapha Hamid. For the avoidance of any doubt, I am not in any way connected to the said story. I do not swim in this kind of politics."