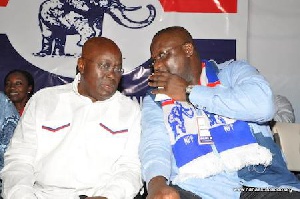 The suspended national chairman of the New Patriotic Party Paul Afoko has said he will turn down any offer to meet the party's flagbearer over the rift between him and the opposition party.
According to him, developments in the party since he won the chairmanship of the Danquah-Busia-Dombo tradition has proven that Nana Akufo-Addo does not like him.

Speaking to Bola Ray on Starr Chat on Starr FM Wednesday, the embattled chairman said he feels an atmosphere of hostility between him and the former attorney general.

"There is a feeling of hostility towards me, he obviously doesn't like me and that is how I feel," he stated.
When asked by Bola Ray if he will honour an invitation to resolve the tensions between them, Afoko answered "no".

He also indicated that he will no longer fund the party going forward.

"Even the vehicles I bought for the party I am taking them back. I bought pickups for the campaign but I'm no longer giving them out, I'm returning them.. I'm no longer going to fund the party".