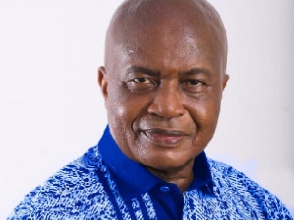 National Chairman of the governing New Patriotic Party (NPP), Stephen Ntim has told members of the party in the Northern Region that he is satisfied with their selection of Dr. Mahamudu Bawumia as Flagbearer of the party for the 2024 general election.
Addressing a teeming crowd of party supporters at Nalerigu in the Northern Region on Monday when he joined Vice President Dr. Bawumia's Thank You Tour, Chairman Ntim said his dream of delivering a President from the party has begun playing out.

"When I was campaigning to become National Chairman, I told the delegates especially and the whole Ghana that give me a Flagbearer and I will give you a President. That dream has started unfolding. You have given me a Flagbearer and I am going to give you a President next year December."

He said the election of Dr. Bawumia who is a northerner as Flagbearer has put the NPP's arch-rival which is the largest opposition party, the National Democratic Congress(NDC) to shame.
"The NDC and other detractors of the NPP kept saying that the NPP will never select a Flagbearer or produce a President from the north. It is so heartwarming that today I stand here and we together are telling the NDC that their wish of us not selecting a northerner as Flagbearer to become a President has been defeated and canceled out."

Chairman Ntim further vowed to make good his promise of delivering a President from the NPP.

"Delegates that I came to when I was campaigning to to become National Chairman, you have delivered your side of the equation. You have given me a Flagbearer in the person of Alhaji Mahamudu Bawumia. It is my turn as National Chairman to give you a President next year December and I am counting on all of you."