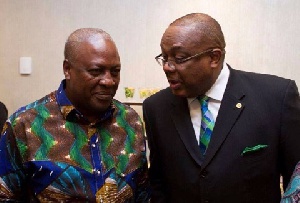 Ghana's Former High Commissioner to the United Kingdom, Ambassador Victor Smith has said that he is more than ready to be the running mate to ex President Mahama if the former appoints him as such.
According to Ambassador Victor Smith, serving in the capacity as a vice president will offer him the opportunity to use his rich decades of experience both foreign and local to help transform the various sectors of the economy.

"I want to be part of a team that will deliver quality leadership to this country.

"…If am offered that job to try and help bring sanity to the leadership in Ghana, I'm willing to do it, it's for Ghana, so if President Mahama asks me to be his running mate, I won't decline, because it gives me the opportunity to bring my ideas and to share in the vision" he told Kweku Owusu Adjei on Anopa Kasapa.

Mr. Smith stated that John Mahama is more marketable and has what it takes to clinch victory for the NDC in the next elections.
He added that, the poor economic performance of the ruling New Patriotic Party, (NPP) gives Ghanaians the chance to pick Mahama over President Akufo Addo come 2020.

About eleven members of the NDC have so far declared their intention to contest as flagbearers of the party ahead of the 2020 polls.

They include Dr. Ekow Spio Garbah, a former Trades and Industry Minister under the John Mahama government; Former Vice Chancellor of the University for Professional Studies, Accra (UPSA), Prof. Joshua Alabi, and Member of Parliament for Nadowli-Kaleo, Alban Bagbin and just recently, former Chief Executive Officer of the National Health Insurance Authority (NHIA), Sylvester Mensah.