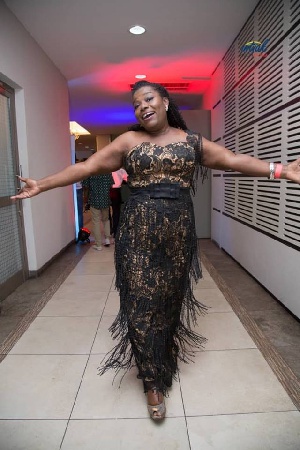 There is a response to stories surrounding how former Minister for Gender, Children and Social Protection Nana Oye Lithur's gained weight and later 'slimmed' down.
This issue first gained traction after her husband, Lawyer Tony Lithur filed divorce papers.

MyNewsGH.com's reading of the statement of case reveals that Nana Oye Lithur had a bad eating habit which made her bloat and overly fat, which according to her husband made her have low self-esteem leading to too many quarrels in the home.

He resolved to help her by paying for 'procedure' that cost $33,000 in the United States which corrected her body.

He however said by slimming down, his wife's troublesomeness became, in his words, "more brazen" and she now didn't even respect more than before.

But long after the matter, Oye has replied indirectly, by posting her routine and what actually happened.
"I promised I would drop few diet and nutrition tips. Over the past two years I have been on vitamin B12 and B6. I take one tablet of cod liver oil daily and multivitamins for women. I also select my diet according to my blood group. It worked for me!

I encourage you to get professional advice on which diet and medicine are good for you, be consistent and you will achieve your fitness goals. #OyeTalksFitness" She wrote on Facebook.



Divorce

The Lithurs are parting ways due to marital infidelity on the part of the loudmouthed Human Rights advocate Nana Oye Lithur, who has also not only allegedly said her husband is a serial womanizer but also that she is innocent of every single allegation he is making against her.
Both Lithurs have asked that their privacy be respected in the course of their divorce, writing separate statements.

Nana Oye Lithur, who is said to be eyeing the opposition National Democratic Congress (NDC's) National Women's Organizer position has been crisscrossing the country as part of the party's Unity Walk to win over potential delegates who will be voting in a matter of months for NDC National Executives.