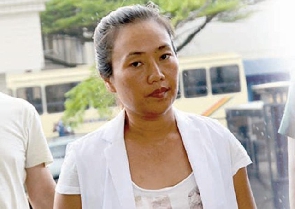 Wed, 19 Jul 2023 Source: GNA
En Huang, aka, Aisha Huang, an alleged illegal miner, has told an Accra High Court that she had never been to Bepotenten in the Ashanti Region for any illegal mining activities.
She has also denied meeting farm owners to secure lands for illegal mining activities, claiming she was not fluent in the Twi Language.

"I have never had any conversation in Twi language anywhere," Aisha said while answering questions under cross-examination by Mrs Yvonne Atakorah Obuobisa, Director of Public Prosecution.

Aisha Huang admitted owning a supermarket in Ahodwo, Kumasi, by name Aisha Supermarket.

According to her, the official name of her company was Golden Asia Company Limited, which had the objectives of dealing in the import and export of general goods and mining services.

She explained that although mining was part of her company's objectives, she did not have a permit to engage in mining.
En Huang admitted that she was a director of the company and not the secretary.

She said she operated the supermarket from 2013 to 2018 and that she had permit to operate that business (supermarket).

En Huang is standing trial on the charges of undertaking mining operations without license, facilitating the participation of persons to engage in illegal mining and re-entering Ghana though prohibited.

She has pleaded not guilty and the court presided over by Justice Lydia Osei Marfo has remanded her into lawful custody.

Hearing has been adjourned.
Source: GNA