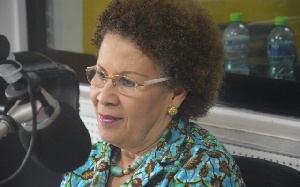 Yvonne Nduom, wife of Dr. Papa Kwesi Nduom says she has no reason to doubt that the electoral commission chairperson Charlotte Osei will run the December elections with diligence.
She said although the Progressive People's Party had challenges with the election management body, the Supreme Court rose to the occasion and allowed sanity to prevail, following their disqualification from the presidential race by the commission.

Speaking to Nii Arday Clegg on the Morning Starr Friday, Mrs Nduom said she is looking forward to an election with integrity come December.

"As a woman, I am happy that such an accomplished woman has risen to that position. It is good for women. With the issue with the electoral commission, I wasn't very happy with it but our judiciary has come out and shown that they will always do the right thing. They rose to the occasion and did what has to be done," she said.

She added that she has no reason to doubt the competence and ability of Mrs Osei to run a clean polls.
"I don't have any reason to doubt her. I trust she will do good," she said.

Mrs Nduom also urged Ghanaians to be bold and vote for her husband because both the NDC and NPP have failed to deliver on the mandate that was given them by Ghanaian.

"If you are Progressive minded, this is an opportunity to vote for someone who can do the job and that is the PPP. Those who want to Progress in life should join the Progressive People's Party".