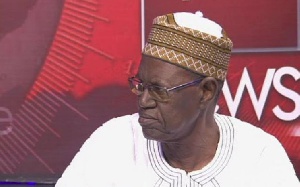 Private Legal Practitioner John Ndebugri has denied ever making his views known publicly on the dismissal of the former Chairperson of the Electoral Commission (EC) Charlotte Osei by President Akufo Addo.
There have been reports in the media that the former Member of Parliament for Zebilla, has revealed that he wept uncontrollably when news got to him that Charlotte Osei had been dismissed as the chairperson of the Electoral Commission.

According to the reports Lawyer Ndebugri argues that none of the six allegations that were made against Charlotte Osei were proven by her accusers.

"I spent the whole night reading the excellent address put together by her lawyer, Thaddeus Sory. I had to pause and cry. The committee rested its report contrary to the evidence on record. Mrs Charlotte Osei must apply for judicial review in the nature of a certiorari to quash this unreasonable decision. It's sad for Ghana.

"If this is the way we have to go, then all of us are not safe, not only Mrs Charlotte Osei. There's no article of the constitution of Ghana which provides that breach of any statute [Act 663] should be a ground for removal from office of the EC Chairperson," he stated.

Mr Ndebugri reportedly said the outcome of the committee's report was travesty of justice, adding that, "Charlotte has been given a raw deal. A judicial review in the nature certiorari to quash the decision of the committee will be the appropriate remedy but not an appeal.

"The new person could be injuncted from holding the office until the final determination of judicial review proceedings".
Mrs. Osei and two of her deputies, Amadu Sulley and Georgina Opoku Amankwa, were on Thursday, June 28 removed from office as Commissioners of the Electoral Commission (EC) by Nana Akufo-Addo on grounds of "stated misbehaviour and incompetence".

Their removal follows recommendations from a committee set up by the Chief Justice to investigate the trio on allegations leveled against them by some staff of the Commission in July 2017.

But speaking to sit-in-host Akwasi Nsiah on Anopa Kasapa on Kasapa FM Monday, Lawyer Ndebugri insisted that he's not authored any such statement relating the dismissal of the former EC senior officials.

"Since this EC matters arose I've not spoken publicly about it and I've not written anything on it. So the person who did that must have a very fertile mind which he can use for more useful things rather than trying to hang things on innocent people.

"This is not the first time this has been done to me, when Koku Anyidoho was arrested someone went and concocted a story and put my name there. I don't know why they go about using my name in that manner and it's always social media, you can't put your finger on the person doing that. If I should ever lay my hand on that person, I'll enter into the same bottle with him or her because they're tarnishing my image unnecessarily."