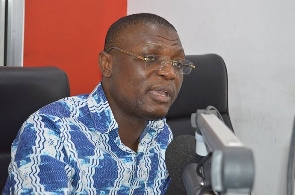 National Democratic Congress (NDC) Member of Parliament (MP) for Buem, Kofi Adams, has said that he has received threats after the vote to approve new ministers appointed by President Akufo-Addo.
According to him, the threats have come to him from all quarters of the party after some unidentified NDC MPs backed the NPP MPs in Parliament to approve the new ministers.

"I have received threats from party people but not threats on my life…they have threatened to vote against me but not physical harm," he said on Angel FM's Anopa Bofo morning show.

The former General Secretary of the NDC however revealed that some of his colleague MPs have received 'physical threats' after the voting exercise.

"Some of my colleague MPs have received physical threats but that hasn't gotten to me, but any form of threat to a colleague MP should be a source of worry for me as it would go against the NDC…," he added.

Parliament on Friday approved the nomination of the new ministers appointed by President Nana Addo Dankwa Akufo-Addo.
- Advertisement -

The approval implied that Adansi Asokwa MP, K.T Hammond will fully become the Minister of Trade and Industry after he is sworn into office by the President with the Member of Parliament for Nhyiaeso, Dr Stephen Amoah serving as his deputy.

The same applied to Bryan Acheampong, Minister-designate for Food and Agriculture, Stephen Asamoah Boateng, Minister-designate for Chieftaincy and Religious Affairs, Mr Osei Bonsu Amoah, Minister of State-designate at the Ministry of Local Government, Decentralisation and Rural Development and Dr Mohammed Amin Adam, Minister of State-designate at the Ministry of Finance.

The Appointments Committee could not recommend the approval of the nominees on consensus, compelling the House to vote to decide the fate of the minister-designates.

The Appointments Committee's report on the nominees was debated in Parliament on Thursday while the voting was done on Friday, March 24, 2023.