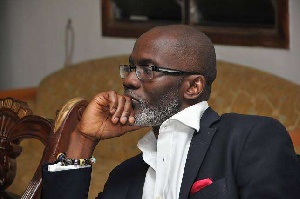 Private legal practitioner and influential family member of President Nana Addo Dankwa Akufo-Addo, Mr Gabby Asare Otchere-Darko, has made stunning revelations about his relationship with ace investigative journalist, Anas Aremeyaw Anas.
He revealed on Sunday March 3, 2019 that he was the first victim of the journalist as far back as 2002 despite being one of his biggest fans describing the act by the journalist then as mischievous

"Don't get me wrong. I am all for naming and shaming. In fact, I am one of Anas' biggest fans. I was also one of Anas' first 'victims' by the way. Yes, as way back as 2002, he threw his searchlight, which was then on low battery, on me quite mischievously. I was a newspaper editor and he a reporter and also a student at the University of Ghana, who had a satirical column in the Crusading Guide. He once accused me FALSELY (with all the emphasis I can conjure) in his column of regularly joyriding (after Saturday football on Legon campus) predatorially in my small VW convertible around Volta Hall, presumably hunting for a beautiful prey. Of course, we laughed over it as friends. Those days, he was just a normal, ambitious, handsome young man, who did not need a mask and could be seen more easily and often by the Volta Hall ladies." he revealed in a post on his Facebook page MyNewsGh.com sighted.

Continuing his view on the style of investigations of Anas Aremeyaw Anas and his Tiger Eye PI crew, he said "his videos are sensational, especially the promos. We go to the theatre to watch them like how the Romans would get enthralled watching the Gladiators butcher each other. Are these blockbusters really helping us in the fight against corruption?
Historically, has government used the "shocking" revelations from Anas' videos to reprimand enough the individuals culpable and reform enough the institutions involved? I ask these questions with the hope that we will look back critically to help us move forward better"

"Jokes aside, I have ten questions to ask about our society and the impact of the "Anas Principle" and I will proceed to explain, where necessary, why the question", he added.