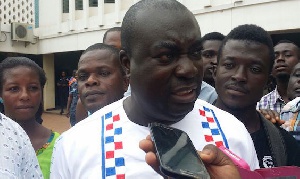 The Member of Parliament (MP) for Manso Nkwanta, Joseph Albert Quarm has revealed that he was almost arrested for trying to stop some Chinese who were into illegal mining activities.
According to him, if anybody dares to go to any illegal Chinese mining site to stop their activities they will be arrested or worse, because they are well guarded by soldiers and even if u report them to the authorities, nothing will be done about it.

Narrating his ordeal to Akwasi Boateng, host of 'Maakye' on Hot93.9 FM, Mr. Quarm stated that in his quest to stop these illegal Chinese miners, he was summoned to the police headquarters and as a result of this, these illegal miners feel they have the right to operate because nobody will do anything to stop them.

He revealed that some large-scale mining companies whom he refers to as "unpatriotic Ghanaians" are partly to blame for the rampant illegal mining activities popularly known as 'galamsey' in the country.

He said, " when these unpatriotic Ghanaians acquire their mining permits which are the recognisance and prospective license to start their large scale mining, they then divide parts of their legally acquired concession into small scale mining and sell them to these Chinese illegal miners."
Explaining further, he indicated that, "Each small-scale mining is 25 acres of land and in all, they could get a total of about 100 small scale mining and when they sell each one to the Chinese from $50 to 100,000 per land, within four to six months, they [large-scale mining companies] gain about five million dollars because they do not pay tax thereby robbing the state".

He backed the three weeks ultimatum given by the Minister of Lands and Natural resources John Peter Amewu to 'galamsey' operators to stop their activities or face the rigour of the law.

He has also urged the ministry to revoke the license of "these nation wreckers" who are the large scale mining companies in order to do a thorough investigation on the sale of their permits to illegal miners since that will be the best place to start the course of abolishing 'galamsey' in Ghana.

This comes after experts at the Ghana Water Company warned of the country's risk of importing water for consumption if illegal mining activities are not stopped.