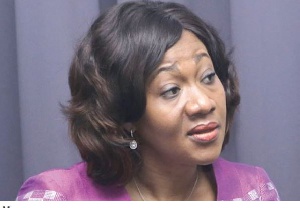 Chairperson of the Electoral Commission, Ghana (EC) Jean Mensa says she was excited about her appointment when it was made known to her.
"It came as a pleasant surprise and of course, I was happy about it. I was joyful about it and elated about it and thankful to God about it."

She stated, nonetheless, that she felt she had taken a wrong decision to accept the appointment because she was on her way for her Sabbatical leave when she had a call from the presidency.

She said she initially thought the call was on some of the recommendations by the Institute of Economic Affairs (IEA) but it turned out to be a "pleasant surprise".

Mrs Mensa made all these known on TV3's Today's Woman on Saturday, December 15.

She was making an appearance on the show, which returned after a long break.

The former Executive Director of IEA said she least expected such an appointment.
"It was surprising and this was something I had not expected."

Jean Mensa replaced Charlotte Osei as the Chair of Ghana's Electoral Commission after the latter became the subject of a petition filed with the president.

Mrs Mensa said she will continue to hold on to integrity in decision-making, admitting that there are always dissentients to any decision that comes from the EC.

"You take a decision, and you stand by truth. You stand by the integrity of your decision and you are not perturbed by what others say because you know you can't please everybody."