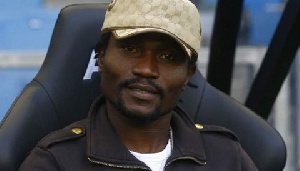 Ex-Black Stars midfielder, Laryea Kingston has a lofty ambition of becoming the first coach to lead Ghana to a World Cup trophy.
Laryea who has taken to coaching and punditry after hanging his boots is confident of securing Ghana its first Word Cup trophy.

Speaking after leading his Al-Rayaan side to victory in the 2018 in the Lizzy Sports Complex's Private Schools Football Gala, Laryea explained that he has channeled the disappointment of not making an appearance at the World Cup into his coaching career and that he has hopes of leading the Black Stars to World Cup glory in the near future.

"In my coaching career I want to graduate like the way I graduated through the various national teams. In my playing days, I played for the national under-15, 17, 20, the Olympic team and then the Black Stars. So that's the same way I want to graduate through the ranks. In the next two years, I see myself coaching one of the top four clubs in the country and then secondly one of the national teams. I did a lot for the Black Stars, worked very hard for the team but I did not go to the World Cup but I have the confidence that one-day-one-day I will win the World Cup for this country. I keep saying it that I will win it for Ghana and I believe I will do it one day", he said.
Laryea Kingston featured for the Black Stars from 2002-2010 making 41 appearances. He was known for his hard work and accurate crosses on the right flank.

Ghana has made three appearances at the World Cup but with a quarter final finish in 2010 being the highest point of finish. An attempt to qualify for a fourth a World Cup in 2018 ended in a disappointment.