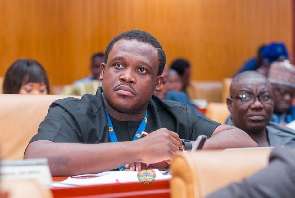 The Member of Parliament for the Ningo Prampram constituency has vowed to deal with any private developer that comes near the Saglemi housing project.
According to him, the government's decision to give out the project to private developers is a scheme to steal from the country.

Speaking on JoyNews on August 8, 2023, Sam George noted that the current state of the project breaks his heart as he was there to commission Saglemi with former President John Mahama.

"Saglemi is a pain in my heart, every time I drive by the place and I see the structure because, in 2016, I was with President Mahama when he took us there to commission Saglemi. When we got there, we saw it, there was life. And now to see the footage that shows the state of Saglemi is painful, it is heartbreaking.

"I am the member of Parliament for Ningo-Prampram, any private developer that comes there should be prepared to fight with me. We will fight them. I will carry out the warning that has been sounded by the flagbearer. Any private developer who thinks he is taking this as a gift from the government and wants to sell this to themselves," he said.

The Saglemi Housing project was initiated in 2012 to deliver 5000 housing units at a total cost of US$200 million.

So far only 1506 out of the planned 5000 housing units had been initiated.
However, the government has launched a 14,000 housing project to be constructed by private developers.

This has raised concerns over the supposed abandonment of the Saglemi Housing project.

SSD/NOQ

Watch the latest edition of BizTech and Biz Headlines below: