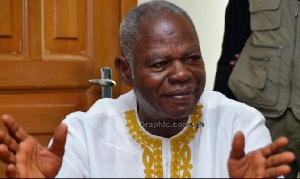 Presidential candidate of the Peoples National Convention, Dr. Edward Mahama has said he will prioritise the passage of the right to information bill if his party wins the 2016 elections.
Dr Mahama assured Ghanaians that he would use his first term in office to pass the right to information bill and tackle corruption head on, saying "I will be the David in Ghana to fight the Goliath corruption which has riddled our progress as a country."

Addressing party members and supporters at the Bolgatanga Jubilee Park, the five time leader of the PNC also stated that his leadership will be tough in the fight against corruption.Hundreds of party members and supporters thronged the Bolgatanga Jubilee Park to witness the official launch of the 2016 PNC Manifesto.

The 55-page document elaborates how the PNC will govern the country if the party emerges winner in the December 7 general election.

The manifesto is built on three pillars – how the PNC will streamline the public sector, ensure economic growth and also create job opportunities for the youth.

General Secretary of the PNC Atik Mohammed described the current state of Ghana's economy as hopeless, blaming the NPP and NDC governments respectively.

"The NPP and the NDC governments have rendered the country hopeless..PNC government will restore the hope," he said.
He also said that the Pwalugu tomato factory will be revived under the leadership of Dr. Edward Mahama, saying "the tomato factory revival has been a mere political talk but the PNC is assuring you that it will be one of our prime focus".

Running mate of Dr. Edward Mahama, Emmanuel Anyidoho said the PNC has the best remedy for the ailing economy. "Streamlining the public sector and ensuring economic stability will be the pillars of our government," he said.

The PNC has contested in all the elections under the fourth Republic. In 1979 the first leader of the party Hilla Limann won the election when he led the then Peoples National Party.

The party also secured 71 seats in the then National Assembly, now Parliament. In 1992 Hilla Limann led the party again after military junta had collapsed his administration in 1981.

Dr. Edward Mahama Led the PNC in 2006, 2000,2004,2008 and currently he is leading the party into the 2016 elections. The PNC currently has only one seat in parliament – Builsa South- currently occupied by Alhassan Azong.