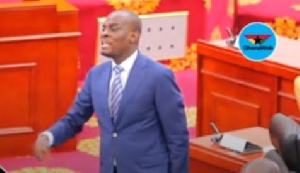 Minority Leader Haruna Iddrisu has said in a press conference after leadeing his Minority side out Parliament on Tuesday that he will reply the insults thrown at him by Hon Osei Kyei Mensah Bonsu, the Majority Speaker.
The Tamale South Member of Parliament (MP) has said that the Majority speaker has no monopoly over insults and therefore he will not allow his image to be dragged in the mud by the Suame MP.

The vendetta follows after the Minority boycotted a sitting in the House on Tuesday, saying their findings on the cash-for-seat saga was not captured by the reports presented to the floor of the House.

Hon Kyei Mensa Bonsu has stated emphatically that the Parliament will not listen to any "cock and bull story" from the Minority side of the House.

According to Dr Dominic Ayine, a Minority member of the committee set up by the Speaker of Parliament to investigate the allegations that Business Expats paid monies to sit close to the President at the Ghana Expatriate Business Awards (GEBA), the Committee refused to capture the observations they made in the final report and that caused the boycott of the sitting.
The Minority had released a counter report last week accusing Hon Ameyaw, Kyeremeh, the Chairman of the committee for covering up the truth of the findings.

On Tuesday February 6, the Minority walked out of the floor of the House following a disagreement to debate the report of the committee which investigated the Business Expatriates saga.



There has been accusations against the Trade Ministry for extorting monies from Business Expatriates to enable them sit close to the President at the Ghana Business Expatriates Award (GEBA) last year.