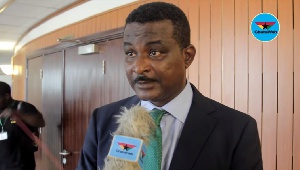 Aspiring flagbearer of the National Democratic Congress (NDC), Kweku Ricketts-Hagan has promised to restore the core values and principles of the party—probity and accountability—should he be given the nod as the flagbearer of the party in their upcoming national elections.
Mr Hagan is among some 11 persons who have expressed interest in leading the NDC into the 2020 elections and according to him, if elected, he will ensure that members of the party understood what it meant to be a social democrat.

He said the NDC has failed and moved away from its duty as a social democratic party expected to provide social interventionist policies to the citizenry, bringing about economic growth. He said the NPP is now taking up that mantle of implementing social intervention programs like the free SHS.

According to him, some people in the NDC do not understand what it means to be a "social democrat" because they did not get the opportunity to be educated on the concept of social democracy when they joined the party.
"Our party was established on certain principles and values and I have observed that, over the years, we have moved away from these principles because some people do not understand these principles and values. This is not their fault because some people did not get people to explain to them what the NDC is about when they decided to join the party," he said on Agoo TV.