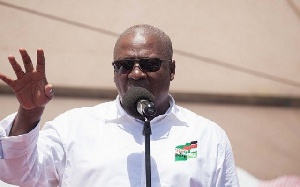 Former President John Mahama has said the Akufo-Addo government has failed Ghanaians and that a future government of the National Democratic Congress (NDC) will teach the current government what good governance is all about.
According to him, the expectations of Ghanaians have been dashed since President Akufo-Addo and his government have failed to fulfil the many campaign promises they made in the lead-up to the 2016 polls.

Speaking at the Agona East Constituency as part of his four-day tour of the Central Region where he is canvassing votes ahead of the NDC's flagbearer primaries, Mr Mahama said times are hard.

According to him, the governing New Patriotic Party will see better governance when the NDC returns to power in 2020.

He bemoaned that many projects started under his government such as the Community Day Senior High Schools, have been abandoned.
"The NPP will see the difference in governance when we return to power", Mr Mahama said.

"We began with development projects, social and economic infrastructure leads to development. For every nation to prosper, you need roads, hospitals and schools, we began these. We began constructing Community Day SHS to support the progressive free SHS but those schools have been abandoned by this government," he stated.

He said a future NDC government will do better than what the present government is doing.