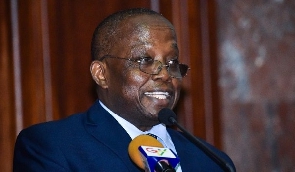 Former Auditor-General Daniel Domelovo claimed in an interview that he felt liberated after being thrown out by President Akufo-Addo.
He added that he regarded his working environment as "toxic" since he worried for his life.

Domelovo noted in an interview that he had to be cautious about what he ate, drank, and even who he talked to since he felt uncomfortable while working.

He made the statements in response to the Supreme Court's ruling on President Akufo-Addo's instruction to proceed on leave.

He believes the Supreme Court's decision to declare President Akufo-Addo's directive to force him to go on leave unlawful has vindicated him.
In response to the unanimous ruling of the court, he has reaffirmed his position on the topic.

Domelovo said that, while some have questioned why the Supreme Court took two years to reach this ruling, it was good.

In an interview, he stated, "The court's decision was sound. I've been vindicated. They would be the best to respond to why they failed or delayed this decision."

He said that the office climate was toxic. "I swear it was a challenge deciding what to drink, eat, or even who to chat to. I dreaded these things because I feared them. I was concerned that I was working in enemy territory. I felt I was on enemy territory, so I was cautious. True, the court's ruling was delayed, but I must say I felt relieved and safe after being driven out."
"My adversaries were numerous. My board chairman was the one who represented Yaw Osafo Marfo in court over the Kroll and Associates affair. Can you picture your board chairman representing someone who had been surcharged in an issue, then returning to sit as chair and make decisions? therefore I felt like I was on enemy territory, therefore I took precautions."

Background

On Wednesday, May 31, 2023, the Supreme Court found that the President's order to place Daniel Domelovo on leave was unconstitutional.

The court also ruled that the President's appointment of someone to act in his absence was unconstitutional.
The ruling the court a case filed before it by the Centre for Democratic Development and eight other Civil Society Organizations.

The CSOs went to court after Dumelovo was ordered to resign.

The CSOs described the decision as an affront to the independence of the office applied to the Supreme Court for a declaration that the action by the President was unconstitutional and null and void.

The suit, filed in October 2020, was prompted by the president's failure to rescind the directive following several appeals.
After a two-year hearing, the Supreme Court issued its decision, upholding the applicants' plea.

The court declared that the directives were unlawful since the President does not have the power to exercise such disciplinary control over independent bodies.

The Court, however, did not issue any other orders including stopping Domelevo from proceeding on leave since he has since retired.

The case was heard by Justices Nene Amegatcher, Prof Ashie Kotey, Mariama Owusu, Lovelace Johnson, Gertrude Torkonoo, Prof Henrietta Mensah Bonsu, and Emmanuel Kulendi.